Vinyl Plank Flooring Installation Services in Pensacola, FL
We Can Install Luxury Vinyl Plank Flooring in Your Home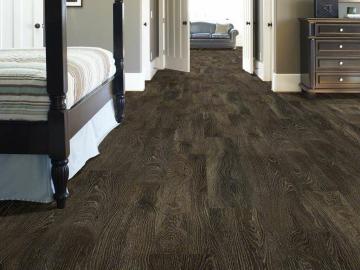 If you love the appearance of hardwood floors but yearn for a budget-friendly alternative, come to "The Flooring King." Jonathan's Flooring offers attractive vinyl plank flooring options for homeowners in Pensacola, FL, and the surrounding area.
Our team specializes in a wide range of flooring types and we have the expertise to help you design your home's interior, prepare for proper installation, and install your new floors. Our professional, community-driven company takes pride in our southern hospitality. We want you to be happy with every aspect of your floors, so we will take the time to understand your needs. This awareness allows us to find solutions that fit your aesthetic and budget. Call us today to learn more.
What is Vinyl Plank Flooring?
Vinyl plank floors have been reliable alternatives to hardwood flooring and tiles for decades. They were initially known for their durability and functionality, but their attributes now also include stylishness. Vinyl plank floors can mimic the look of hardwood floors, porcelain tiles, stone, and other materials at a fraction of the cost. And the quality of vinyl plank floors has improved exponentially over time. You can depend on your vinyl plank flooring to withstand heavy foot traffic while maintaining its luxurious appearance.
Why You Should Choose Vinyl Plank Flooring
Customers interested in vinyl plank flooring are not limited to those who merely want to save money. Though cost savings are a significant advantage to vinyl plank flooring installation, they are not the only reason why homeowners are increasingly requesting vinyl plank floors. Other benefits of vinyl plank flooring include:
Durability
Easy to clean
Low maintenance
Minimal accumulation of allergens
Available in many styles
Waterproof options
Vinyl Plank Flooring Looks Beautiful in Any Room
Due to their versatility, vinyl plank floors can look beautiful in any room of your house. We want you to have the opportunity to showcase your interior design skills, and vinyl plank flooring allows that to happen. Many individuals opt for vinyl plank flooring in their kitchen because it offers the elegance of wood floors while also protecting against water damage and scuff marks. Furthermore, if anything goes wrong, you can replace or repair small sections quickly and easily. You may also consider vinyl plank flooring for your bathroom. Its waterproof qualities make it as safe as tiles at a lower cost.
Dining rooms, bedrooms, and living rooms are also prime locations for vinyl plank floors. These high-traffic areas of your home need tough flooring that is easy to clean and maintain – qualities vinyl plank flooring has in spades. Finally, if you want to finish your basement, consider vinyl plank flooring for the space. It is built to stand up to the moist conditions and temperature variations that are omnipresent on your bottom level.
Our Vinyl Plank Flooring Installation Process
By partnering with Jonathan's Flooring, you can ensure a hands-free home renovation project. Our professional floor installers will happily do the work for you. But before the process begins, we will make suggestions regarding how to prepare and what to expect. To redo your floors, we will first have to remove furniture and appliances from the space. This will allow our experienced team to work swiftly so that you can quickly return to your normal activities. Then, we will proceed to install your vinyl plank floors. Our process entails:

Removing any existing flooring
Preparing your subfloor by ensuring it is smooth and flat
Taking precise measurements to guarantee the exactness
Placing an underlayer on your subfloor
Applying your vinyl plank flooring in a pattern starting from the center of the room
How to Maintain Your Vinyl Plank Floors
With your vinyl plank floors in place, it is essential to maintain them to ensure they last for many years. Fortunately, that does not require an abundance of work on your part. We suggest regularly sweeping your floors to remove dirt, dust, and debris. If you notice any scuff marks, you should be able to remove them with a damp towel. Because your vinyl plank floors have water-resistant qualities, feel free to mop any spills. Though your floors are durable, we still recommend using pads to move heavy furniture for added protection. A little tenderness will help make sure your vinyl plank flooring's lifespan exceeds your expectations.
Contact Jonathan's Flooring Today
Homeowners love vinyl plank flooring for its elegance, durability, and cost-effectiveness, among other factors. If you are considering redoing your floors, reach out to the experts at Jonathan's Flooring for advice or peruse our portfolio. We can provide vinyl plank flooring options of all different colors and styles for customers in Pensacola, FL, and the surrounding area. Contact us today to request a free estimate.