Tiled showers and bathrooms are becoming increasingly popular for home and business design. Tiles can streamline the look of your space and add a touch of class. There are so many options to choose from that can transform your space into a sleek, modern bath or a spa-like oasis. Choosing the right tile and having proper installation is key to a successful tile project. This is where the experts at Jonathan's Flooring can help.
Contact Us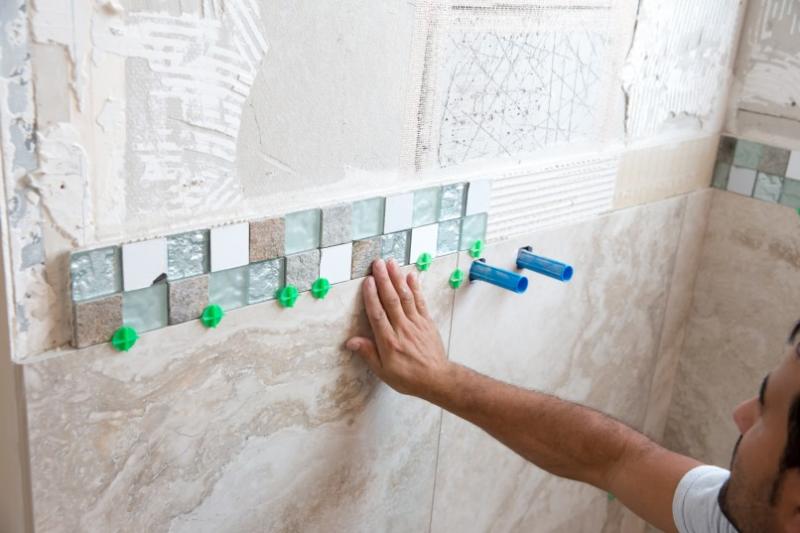 Selecting the Right Tile for Your Bathroom
One of the most daunting tasks when deciding on the tile for bathrooms and showers can be choosing the right tile. Much of this depends on the size of your space, your budget, the materials you want to use, and any color or design options you have in mind. Whatever your vision, it is important to have the knowledge and expertise of a top team to help you bring your design ideas to life.
While the combinations and options are limitless when it comes to tile, here are a few ideas to get you inspired.
Tile materials: Can be made of porcelain, glass, stone, or metal.
Tile size: Depending on the size of your space or where you plan to use it, tiles come in a variety of sizes and shapes that can make a dramatic impact on your space.
Color/texture: Tiles are a great way to bring color into a space. Colored glass tiles can add a touch of class or a serene, spa-like feel. Some flooring tiles can be colored and textured to look like hardwood but with the bathroom-friendly durability of tile.
Choosing the right tile will greatly impact the feel of your space. Whether you are looking to bathe in the lap of luxury or want a practical, streamlined bathroom for the whole family, tile for your shower, walls, and floor can create a whole new mood for your bathroom.
When it comes to design, choosing different sizes of tile can help make a small bathroom look bigger and even cleaner. Glass tile for a shower wall can open up the feel of your space and bring light into the room.
Benefits of Having Tile in the Bathroom
There are many benefits to having tile in your bathroom for the shower walls and floor as well as bathroom backsplashes and flooring. Some of these benefits include:
Ease of maintenance
Stain resistance
Durability
A clean, streamlined look
Water resistance
Increased value of the home
Having tile in your bathroom over carpeting or vinyl flooring can be easier to keep clean and helps to prevent mold and mildew that can come from water gathering on carpeting or around vinyl seams. Having tile for your shower walls and floor is also beneficial over a pre-fabricated shower surround as water can tend to gather behind the surround if not sealed properly or if seals wear over time. Tiles are a much more durable, water-resistant solution that not only protects your wall structure but looks great.
Bathroom Tile FAQs
Is there a type of tile that is best for bathroom use?
The type of tile you choose depends entirely on where you will use it. You may find that a different tile will work better for a backsplash than a shower surround. This all depends on your space. Your installation experts can answer any questions you have regarding tile selection once they look at your space.
Is there a difference between bathroom floor tiles and bathroom wall tiles?
There can be! Some tiles have an anti-skid feature which would be perfect for a bathroom floor. Other tiles, such as ceramic tiles, may have textures or ridges that you might not necessarily want on your floor but would look great on your wall as a backsplash. These are all design choices as they relate to the function of your space.
How do I choose colors for my bathroom tile?
This is the fun part! Your design experts can certainly make recommendations, but a good rule of thumb is to have a color scheme in mind and look for tiles that match the look you are trying to create. White is always a clean, classic choice that allows you to bring color in elsewhere to allow flexibility in decorating.
Why Pick Jonathan's Flooring for Bathroom Tile Installation?
At Jonathan's Flooring, our customers are our number one priority. We serve both residential and commercial customers for flooring and tile installation. We are a locally owned and operated business serving Pensacola, FL, and the surrounding areas. Our work ethic and professionalism are points of pride as we want you to be fully satisfied with both the quality of the work we do and our method of delivery as well. We offer free estimates and are available to answer any questions you may have about the services we provide.
Contact Jonathan's Flooring
Are you ready to take your bathroom to the next level? Contact us in Pensacola, FL today. Our friendly team is ready to help you design the bathroom you have always wanted. We look forward to hearing from you.