Professional Carpet Flooring Installation Services in Pensacola, FL
We Can Handle All of Your Carpet Flooring Needs
Everyone loves the feeling of soft carpet beneath their bare feet. Strolling across your bedroom floor after a restful night's sleep is a comfortable way to start your day. If you want to experience that sensation every morning, rely on the carpet installation professionals at Jonathan's Flooring. We are proud to serve customers in Pensacola, FL, and the surrounding area. Our team is proficient with several types of flooring materials, but carpet is among our most popular. Carpet offers a wide range of long-lasting benefits, and homeowners throughout the Sunshine State are happy to kick off their flip-flops and feel the soft fibers between their toes. If you want to install a new carpet or replace your flooring altogether, call Jonathan's Flooring today.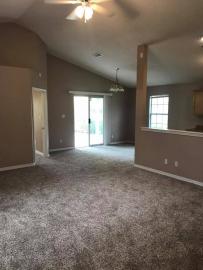 Carpet Looks Great in Living Rooms, Bedrooms, and More
There are numerous types of carpet floors available to you. You can choose from different styles, colors, patterns, lengths, and more to match your home's current aesthetic or revamp a room's look entirely. Carpet is among the most popular flooring options for bedrooms and living rooms, but it looks and performs wonderfully throughout the house. Line your corridors with carpet or have it installed in your home office for an added sense of comfort while you work. Our team has extensive experience, and we are excited to help you find the perfect carpet for all the rooms in your house. We will explain your options and work within your budget to ensure carpet flooring exceeds your expectations.
Why You Should Choose Carpet Flooring
Carpet is a warm, sensible, and attractive flooring option. In addition to looking great on its own, it affords you the opportunity to design your interior in a variety of ways. Most carpets complement the furniture, artwork, and other home features beautifully. But its appearance is just one of many benefits it offers. Reasons homeowners opt for carpet flooring include:
Safety – Carpet provides cushioning to protect against slip and fall accidents among children and adults alike.
Shock Absorption – The same cushioning that protects against falls will absorb shock while you are walking, thus lessening the impact on your knees and joints.
Energy Savings – Carpet flooring will retain heat or cold to help you maintain a consistent home temperature and improve energy efficiency.
Noise Dampening Qualities – Your home will be quieter with carpet because its materials help block noises such as footsteps and echoes.
Improved Air Quality – Carpet fibers trap undesirable air particles and prevent them from aggravating one's allergies or asthma.
The Importance of Professional Carpet Flooring Installation
Jonathan's Flooring has a good reputation for installing all types of floors masterfully, with a portfolio to prove it. The carpet looks lovely if it is installed properly, but many homeowners who attempt to install it themselves are left frustrated and with less-than-stellar flooring. Improper installation can lead to too much or too little material, patchwork areas, and other imperfections. But our team will ensure your flooring looks precisely how you imagined it. The benefits of professional carpet flooring installation include:
Convenience
High quality
Peace of mind
Cost savings
Proper preparation
Our Carpet Flooring Installation Process
Our professional carpet flooring installers take pride in their work and are committed to providing exceptional results with every project. This endeavor begins the moment you start your carpet selection process at Jonathan's Flooring. Our team will help you choose carpeting that will accent your home's existing features and fit within your budget. We will then arrange a time to visit your house to take measurements and begin preparing for installation.
On the day of installation, we will start by removing large pieces of furniture and clearing your rooms. Next, we will vacuum your old carpet to minimize airborne dust particles. After that, we will remove your existing carpeting and subflooring before once again vacuuming to maintain cleanliness. Our carpet flooring installers will then carefully and efficiently lay your new subflooring and carpet and secure them in place. We will finish by cleaning behind us and ensuring your rooms look wonderful. Keep in mind that you may notice loose carpet fibers after we leave. This is normal and will lessen with routine vacuuming.
Contact Jonathan's Flooring Today
If you want to showcase your style while also increasing your home's energy efficiency and improving your indoor air quality, carpet flooring may be exactly what you need. Jonathan's Flooring provides professional carpet flooring installation services for customers in Pensacola, FL, and throughout the surrounding area. Contact us today to request a free estimate.