Premium Hardwood Flooring Installation in Pensacola, FL
Your home's floors are among the first features many visitors will notice upon entering your home. We know you want to impress your guests, so it is important to have beautiful flooring throughout the house. Jonathan's Flooring provides a wide range of flooring options to our customers throughout Pensacola, FL, and among our most popular are hardwood floors. Our hardwood flooring installation experts have extensive experience with all types of hardwood. We will gladly arrange a time to visit your home and explain your options before outlining a plan to install your beautiful new floors quickly and efficiently. If you are ready to spruce up your home, call our friendly team of professionals today to get started.
Choose From a Range of Hardwood Floor Styles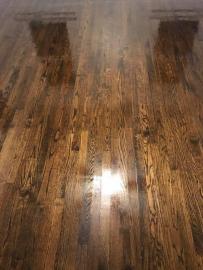 Despite whatever comes to mind when you think of hardwood floors, it is important to understand there is a wide range of styles from which to choose. You may first think of a solid dark brown floor, or mental images of tan floors with various markings may come to mind. Either way, you should reach out to Jonathan's Flooring to understand the full scope of hardwood floor styles. We will explain the differences and benefits of each while also introducing you to color patterns you may not have known existed. The different types of hardwood floors include:
Engineered Hardwood – This style of hardwood floor offers protection against moisture problems. We can lay engineered hardwood directly on a slab floor.
Solid Hardwood – Solid hardwood should be placed atop a wood floor foundation. Therefore, it is best for use on the second floor of your home.
Exotic Hardwood – The woods used to create exotic hardwood floors are typically not found in the U.S. Homeowners who opt for this style appreciate its uniqueness and aesthetic.
Benefits of Installing Hardwood Floors
New floors are among the most popular home renovations because they enliven rooms by altering their aesthetic. If you are considering updating your hardwood floors or replacing a different style to update your home, let Jonathan's Flooring assist you. Our professional hardwood floor installers recognize the many benefits of hardwood floors, and we are happy to highlight them. Among the advantages of hardwood floors are:
They are always in style
They maintain a beautiful appearance through the years
They are easy to clean, thus more hygienic than other options
They rarely need to be replaced entirely
Homes with hardwood floors have a higher resale value
Why You Need Professional Installation Services
The convenience and beauty of hardwood floors make them popular for homeowners throughout Pensacola and the surrounding area. But even though they require little maintenance once they are in place, installation is not a simple do-it-yourself project. You should opt for assistance from the hardwood floor contractors at Jonathan's Flooring. We have been installing floors in Florida homes for years, so you can rest assured we will complete your installation safely and effectively. Clients trust our team for installation because we offer:

Durable, quick results


Exceptional quality


Cost-effectiveness
Hardwood Floors Are Ideal for Many Spaces
Hardwood floors will look good in any room of your home. They add a sense of elegance that other flooring styles cannot provide. However, it is critical to discuss your desires with our hardwood floor installers. We can help tailor your hardwood floors to your sense of style and your home's specifications. In addition to measuring for exactness and ensuring there is little to no wasted material, we will also help acclimate the wood to your environment before installation. Our team will consider factors such as humidity to prevent cracking, splitting, or warping and ensure your floors last for decades. We can also suggest finish types that protect against scratching, scuffing, and water spots so that your floors maintain their beautiful appearance.
Contact Jonathan's Flooring Today
Whether you want hardwood floors for their trendy beauty or low maintenance, you should reach out to the team at Jonathan's Flooring. We offer hardwood floors in all types and colors to match your style, and we will happily work within your budget to find a fit that meets all of your needs. We are proud to serve homeowners throughout Pensacola, FL, and the surrounding area. Contact us today to request a free estimate.