High-Quality Flooring Products You Can Rely On
Whether you need high-quality flooring products or installation services, Jonathan's Flooring in Pensacola, FL has you covered. As a top-tier construction business and flooring company, we offer our clients a wide range of state-of-the-art services, including flooring, paint, maintenance, and installation. We keep our prices affordable and competitive to ensure a long-lasting relationship with each of our valued clients. We provide service to residential and commercial property owners, as well as contractors and property managers. If you're looking for the best flooring products and services in the area, you've come to the right place. We strive to ensure that our products are precisely what our clients expect and need.
Flooring Products & Services You'll Love
We offer exceptional flooring services and high-quality customer service. From carpet to emergency vinyl plank flooring, we provide it all. Our flooring services aim to protect and enhance your property for years to come. Below is a look at the types of flooring we offer:
• Vinyl-Plank: A synthetic cousin of linoleum, vinyl-plank flooring is water- and stain-resistant, versatile, and provides excellent durability for a lower cost.
• Glue-Down: Glue-down flooring options involve using an adhesive to stick your dry-back vinyl flooring to its base.
• Carpet: Not only does carpet flooring provide function by cushioning any slips or falls, but it also dampens noise and provides thermal insulation for your home.
• Tile: Tile flooring is extremely resilient when it comes to staining and wear. It's great for high-traffic areas such as your kitchen, bathroom, offices, and breakrooms.
• Hardwood: Not only does hardwood flooring add elegance to a home, many people believe that having a hardwood floor opens a space and makes a room look larger.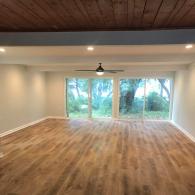 Why Choose Jonathan's Flooring?
At Jonathan's Flooring, we cater to the needs of our clients. Whether you need carpet flooring installation or tile installation, we've got you covered. From residential to commercial properties, we can handle any flooring installation. Our expert team has the training and experience to prioritize customer satisfaction above all else. From tile products to pristine, hardwood floors, we've got flooring solutions that are economical and affordable. With us, you'll always get the highest quality.
Contact Jonathan's Flooring Today
If you're looking for premier flooring products or services in Pensacola, FL, you've come to the right place. At Jonathan's Flooring, we'll ensure the products you purchase from us are exactly what you need and expect. Our expert team offers a wide range of flooring types, flooring installation, and various other construction-related services. So, whether you're considering re-carpeting your entire house, or you want new hardwood flooring for your office building, we can help. Contact us today to ask about free estimates and the types of flooring we offer or schedule your professional services.