Quartz Countertops in Pensacola, FL
Welcome to the World of Quartz Countertops
At Jonathan's Flooring, we take immense pride in offering you a diverse range of stylish and durable home solutions. Among these, quartz countertops have become a top favorite for homeowners in Pensacola, FL. The popularity of quartz countertops stems from their splendid aesthetic appeal, unmatched durability, and the broad spectrum of quartz countertops colors available. This versatile material allows homeowners to effortlessly infuse their style into their kitchen spaces.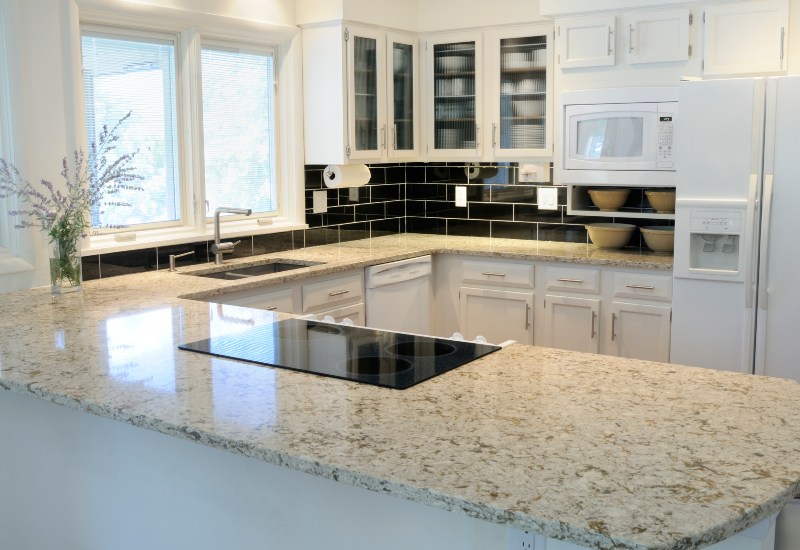 The Stellar Advantages of Quartz Countertops
Quartz countertops are much more than just an attractive addition to your kitchen. Their inherent qualities make them a sought-after choice for those who value durability, low maintenance, and beauty in their home interiors:
Strength and Durability - Quartz kitchen countertops are built to last. Quartz, as a material, is incredibly tough and can easily endure the everyday hustle and bustle of a busy kitchen.
Ease of Maintenance - One of the standout features of quartz is its non-porous nature. This makes quartz countertops resistant to stains and scratches, allowing them to maintain their charm for years. Unexpected spills or accidents won't lead to lasting damage, making cleaning and maintenance a breeze.
Heat Resistance - Quartz countertops can withstand high temperatures. You can place hot pots and pans directly on the surface without worrying about discoloration or damage.
Visual Appeal - Quartz countertops are available in a stunning array of colors and patterns. No matter your decor style or color scheme, you will find a quartz countertop that blends seamlessly with your kitchen design.
Your Journey to Quartz Countertop Installation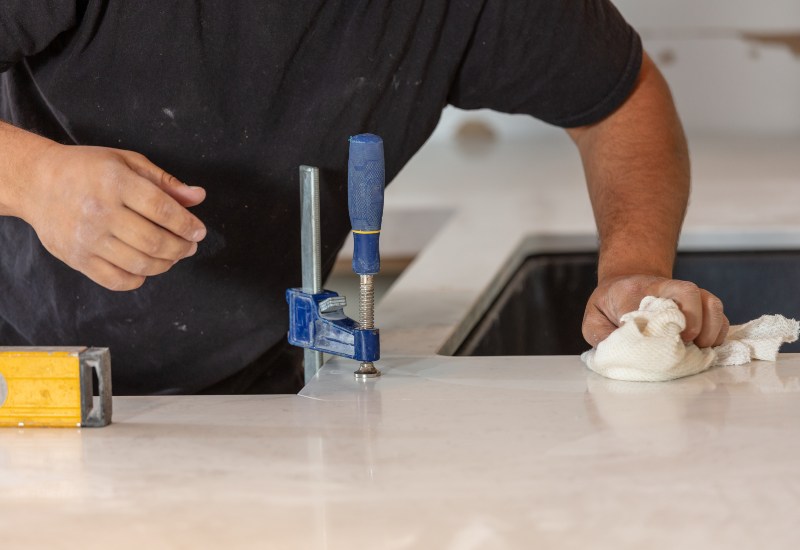 At Jonathan's Flooring, we handle each step of the quartz countertop installation process with utmost precision and professionalism. From the initial measurements to the final installation, we make the journey smooth and stress-free for you:
Initial Measurements - Accurate measurements ensure a perfect fit for your new countertop. Our team takes precise measurements to start the process on a solid foundation.
Selection and Customization - Once the measurements are done, you can choose from our wide range of quartz kitchen countertops. Whether you prefer a natural stone look, a solid color, or a unique pattern, we've got you covered.
Professional Installation - With years of experience, we take great care in installing your chosen quartz countertop. Our team works diligently to ensure that the countertop is properly secured, the edges are smooth, and the finish is flawless.
Hear from Our Satisfied Customers
We've had the privilege of transforming numerous kitchens with our quartz countertops. Here are a few testimonials from our satisfied customers:
Tammy in Pensacola, FL said, "Jonathan's Flooring was very helpful. They were kind and cautious and very fast in the job. I'll be using them from now on."
Del in Pensacola, FL appreciated our holistic services. "I had a door installed, grouting, ceilings painted, molding installed, caulked, and painted. Door frames replaced, etc., just a litany of things taken care of within the house. Jonathan's was very professional and tidy in completing all the renovations. I will definitely recommend your company to my friends."
Why Jonathan's Flooring Is the Right Choice
Jonathan's Flooring means choosing a team that values quality, precision, and customer satisfaction. Our extensive experience in installing quartz countertops has equipped us with the knowledge and skills to deliver nothing but the best. From understanding your specific requirements to ensuring a seamless installation process, we aim to make your countertop upgrade as smooth as possible. We appreciate your trust in us and are committed to providing a quartz countertop you'll love.
Take the First Step Towards Your New Kitchen Today
Are you ready to bring the charm of a quartz countertop into your kitchen? Contact us at Jonathan's Flooring in Pensacola, FL today. Our dedicated team is ready to walk you through the process and help you select the perfect countertop for your home. The kitchen of your dreams is just one call away.