Granite Countertop Installation in Pensacola, FL
Your Florida Granite Countertop Contractors
For years, Jonathan's Flooring has been serving Pensacola, FL, by providing expert services performed by knowledgeable professionals. Whether you need countertop installation, flooring installation, painting services, or maintenance plans, our team is here for you. Our team of kitchen countertop installers at Jonathan's Flooring are prepared to help you make your dream counter a reality.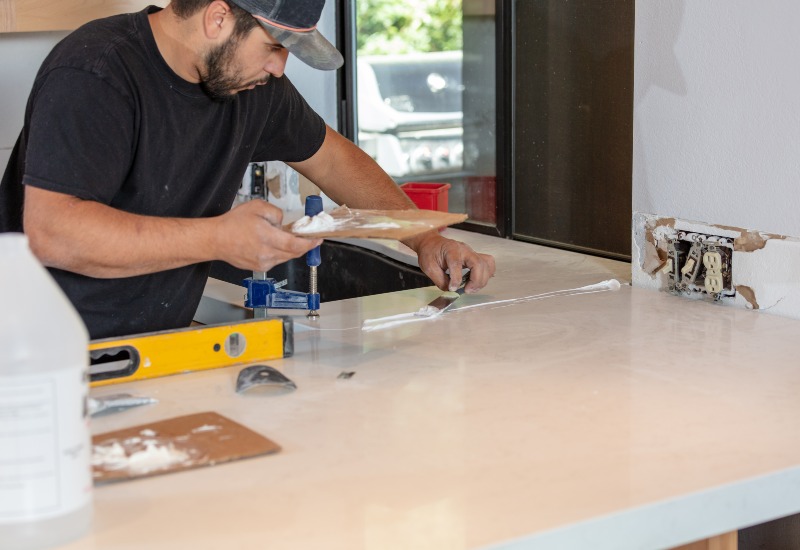 Benefits of Granite Countertops
With luxury aesthetics and functionality, granite is among the most common choices for bathroom, laundry, and kitchen countertops. There are many benefits to installing granite countertops in your home or business. The benefits include:
Easy Maintenance – Easy cleaning and maintenance are crucial to a quality countertop. Granite is easy to clean and easy to keep looking beautiful. Often, granite countertops can be brought back to new with a simple water and soap cleaning method.
Temperature Resistance – Granite countertops are perfect for the kitchen, bathroom, and laundry room because of their incredible temperature resistance. Even with stoves, pans, clothing irons, or hairstyling appliances, your granite countertop will stay cool to the touch.
Strength and Durability – Granite is one of the hardest natural stones. When we use granite to make countertops, the result is an incredibly durable and forgiving countertop. These countertops can withstand nearly anything, whether indoors or outdoors, in your residential or commercial property.
Unique – Because granite countertops are nature-made, each granite slab has unique patterns, fissures, swirls, and flecks. Even slabs from the same quarry are going to be unique. That means that your granite countertops are yours and yours alone.
Increased Home Value – Granite countertops offer stylish functionality and can drive up the value of your home if you were to sell it in the future.
Repairable – When an accident does happen with your granite countertop, we will be there to repair it. Granite can be repaired if it cracks or chips. This is unlikely to happen, but if it does, we can have your granite countertop looking just like new.
Resists Mess – Not only are granite countertops a breeze to clean, but sealed granite countertops resist and repel dirt, stains, and bacteria.
Why Consider Installing Granite Countertops?
If you are looking to install or upgrade to a quality countertop material, granite is a fantastic option. Granite is a smart choice whether you're looking for residential, commercial, outdoor, or indoor use. It is scratch-resistant, burn-resistant, and chip-resistant. In addition, it's a great waterproof option that can protect your home from water damage.


Why Choose Jonathan's Flooring
Are you in need of quality granite countertop installation services in Pensacola, FL? There's no better choice for your service needs than Jonathan's Flooring. Our expert granite countertop installers are committed to providing our community with quality services and excellent product options. When you choose Jonathan's Flooring, you are signing up for the following benefits:
Custom Flooring Plans – Jonathan's Flooring provides our customers with custom plans that we will create with you. We work closely with you to ensure that your needs are addressed so you get exactly what you want.
Quality Products – We only offer the best premium counter materials and products on the market, which ensure that our finished service is durable and long-lasting.
Quality Craftsmanship – Our professional counter installers have honed their craft with many years of experience and training. We know exactly how to craft our final products to ensure durable results. You'll experience the best quality craftsmanship in Pensacola, FL.
Inventory Options – When you choose Jonathan's Flooring, you have access to the area's biggest and most diverse inventory. Our vast inventory ensures that we'll have what you're looking for.
Great Customer Service – When you work with us, you'll enjoy competitive pricing, expert installation, quality products, and incredible customer service. Our team looks forward to serving you.


Contact Jonathan's Flooring Now
Contact Jonathan's Flooring or call us today to speak with our professional team of countertop installers. We can't wait to help you install the perfect granite countertop.