Expert Tile Flooring Installation Services in Pensacola, FL
If you are considering replacing your home's floors, you should seek guidance from "The Flooring King." Jonathan's Flooring provides a wide range of flooring options for customers in Pensacola, FL, and tile flooring is among our specialties. We have extensive experience helping homeowners select the style, colors, and patterns that will enhance their living areas, and our installation experts are adept at installing tiles quickly and efficiently. Our team offers a wide range of tile styles to ensure you find a match that fits your needs, aesthetic, and budget. Call us today to learn more about the benefits of tile flooring, why you should opt for professional tile installation and more.
Why You Should Consider Tile Flooring for Your Home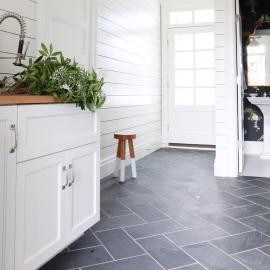 Tile flooring is much more than the boring bathroom squares to which you may be accustomed. Jonathan's Flooring offers tiles made from a wide range of materials perfect for rooms throughout your house. We have performed tile flooring installation in living rooms, hallways, outdoor living spaces, kitchens, and other areas. Tile floors can help you showcase your sense of style regardless of the setting. Among the many benefits of tile flooring are:
Unlimited design options
Durability
Minimal maintenance
Elegance
Different Types of Flooring Tiles
The variety of flooring types allows you to create a unique floor in every room of your home. Individuality is celebrated now more than ever, and we are happy to present you with numerous options that will help turn your house into a home. We install tiles of different shapes, styles, sizes, patterns, and colors. Choose from materials such as:
Porcelain
Ceramic
Stone
Marble
Wood
Vinyl
Laminate
Benefits of Professional Tile Installation
Installing tiles is a challenging process – one that you should not attempt without proper experience. The team of tile flooring contractors at Jonathan's Flooring has the expertise to measure areas appropriately and install tiles efficiently to ensure your rooms look beautiful. Poor flooring installation is almost always noticeable, and safety hazards are abundant. We use professional-grade equipment and tools to guarantee exceptional results. Our installers take pride in doing the job correctly. Peruse our portfolio for shining examples of our work.
Our Tile Flooring Installation Process
After you select the tiles you wish to use for your floor renovation, our team will help you understand the installation process. We have worked with countless homeowners through the years, so we have our process down to a science. Before beginning, we must remove all furniture and fragile items from your rooms. Next, we will clean the area to minimize airborne particles, mold, and mildew. After we prepare your subfloors for installation, we will start laying your new tiles. Our team will determine a proper pattern prior to beginning so that we can work quickly and efficiently. We will apply tiles to a substrate and allow the materials to cure. After 12-24 hours, our team will apply grout to ensure your tiles do not shift. For the first two to three days following tile flooring installation, be sure to ventilate your home well.
Jonathan's Flooring Offers Competitive Pricing
We aim to provide competitive pricing options for your tile flooring. We understand home renovations can quickly become costly, so our experts will work within your budget and attempt to save money wherever we can. Your tile flooring costs will depend on the type of tile you choose, miscellaneous supplies associated with installation, and labor.
Contact Jonathan's Flooring Today
Homeowners are increasingly opting for tile flooring to enhance the look and feel of their houses. With an abundance of styles, shapes, sizes, and materials, there is no mystery why. Jonathan's Flooring is eager to share the benefits of tile flooring with you as you consider the option for your Pensacola, FL home. Contact us today to request a free estimate.