Durable & Attractive Glue Down Plank Flooring in Pensacola, FL
Flooring Installation for Glue Down Floors
Glue-down plank flooring is a popular option for residential and commercial properties in Pensacola, FL. Glue-down flooring, also known as glued-down or glued-down laminate flooring, is a type of flooring installed by adhering it directly to the subfloor using an adhesive. This flooring option typically comes in the form of vinyl planks, which mimic the look of natural wood or stone flooring. As a locally owned and operated business, Jonathan's Flooring offers custom plans and a selection of inventory to fit any budget.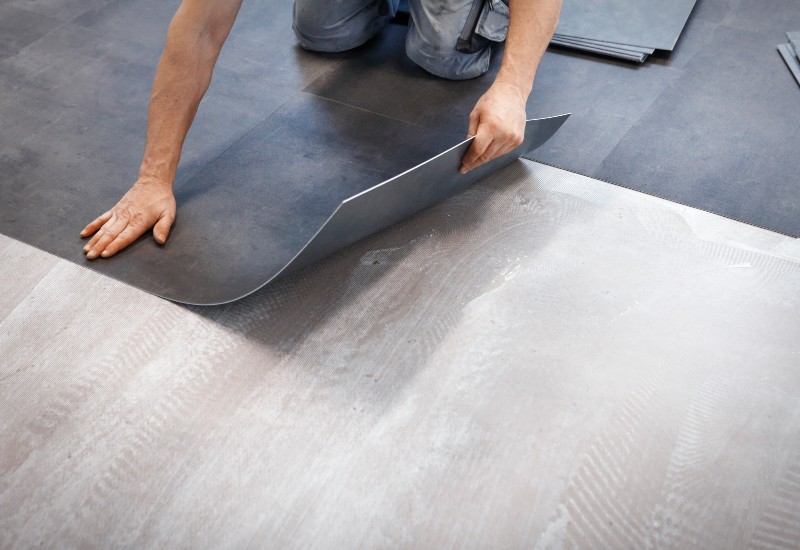 Differences Between Glue Down & Locking Flooring
Glue-down vinyl plank flooring is installed by adhering the planks directly to the subfloor using adhesive while locking flooring (also known as click-together flooring) is installed using a locking mechanism connecting the planks without the need for adhesive. While glue-down flooring adheres to the subfloor, locking flooring is installed by 'clicking' the planks into place. Glue floors tend to be more stable since the adhesive creates a strong bond between the planks and the subfloor. Locking flooring, however, can sometimes come loose over time if the locking mechanism is not properly secured.
Choosing between glue-down laminate flooring and locking flooring will depend on personal preference, budget, and the space's specific needs. Our expert team at Jonathan's Flooring can help guide you through decision-making and provide quality installation for whichever option you choose. Top of Form
Benefits of Glue Down Flooring
Stability – Glue-down flooring is known for its stability from the adhesive bond between the flooring material and the subfloor, resulting in a secure and durable surface that can withstand high traffic and wear.
Aesthetic – Glue-down floors are available in various materials, colors, and designs, including hardwood, vinyl, and laminate, allowing for many options that can match existing or new design preferences.
Easy to Clean – Glue-down flooring is easy to clean and maintain, as no seams or gaps between the planks or tiles can collect dirt or debris.
Minimal Accumulation of Allergens – The tightly secured installation of glue-down flooring minimizes the accumulation of allergens, ideal for those with allergies or sensitivities.
Waterproof Options – Available in waterproof options, glue-down plank flooring is a practical choice for areas with higher moisture.
The Installation Process
Professional installation of glue-down flooring is recommended to ensure a high-quality installation that lasts many years. Glue-down flooring is installed using a simple process involving the following steps:
Removal of existing flooring.
Preparation of the subfloor: The subfloor needs to be clean, dry, and level before installation. Any irregularities or bumps will be removed, and the surface will be cleansed of dust, debris, and moisture.
Laying out the flooring: The flooring will be laid out starting along one wall, leaving a small gap between the edge of the flooring and the wall for expansion, according to measurements.
Applying the adhesive: The adhesive is applied to the subfloor in small sections, using a trowel to spread evenly.
Installing the flooring: The planks will be carefully laid onto the adhesive. They are pressed down firmly to ensure a strong bond. A roller presses the flooring into the adhesive and removes any air bubbles.
Trim and finish: Once the flooring is fully installed, excess material is trimmed from the edges, and any needed transition strips or moldings are installed.
Why Choose Jonathan's Flooring?
We are a locally owned and operated flooring company specializing in glue-down vinyl plank flooring and other flooring options. We offer custom plans and a large inventory of high-quality products. Our team of professionals provides quality craftsmanship, professionalism, and excellent customer service, as reflected in our positive customer reviews.
Contact Jonathan's Flooring
At Jonathan's Flooring, we don't just sell floors; we're here to help you design your home's interior, prepare for proper installation, and install your new floors. Our team takes the time to listen to your needs and find solutions that fit your aesthetic and budget. Don't settle for anything less than the perfect floor for your home. Contact Jonathan's Flooring to start discussing your flooring needs.