Residential Floor Removal in Pensacola, FL
Reliable Floor Removal Services by Jonathan's Flooring
If you're planning on renovating your home, you'll need reliable floor removal services. At Jonathan's Flooring, our highly trained and experienced professionals offer flooring removal services in Pensacola, FL for a wide range of floor types, allowing you to completely transform your home. Whether you're removing floors in one room or throughout your entire property, we have the tools, knowledge, and expertise to assist you. Removing floors on your own without the right tools is a dangerous and tedious task. Trust our team for fast and reliable service. Contact us today to schedule your free floor removal estimate.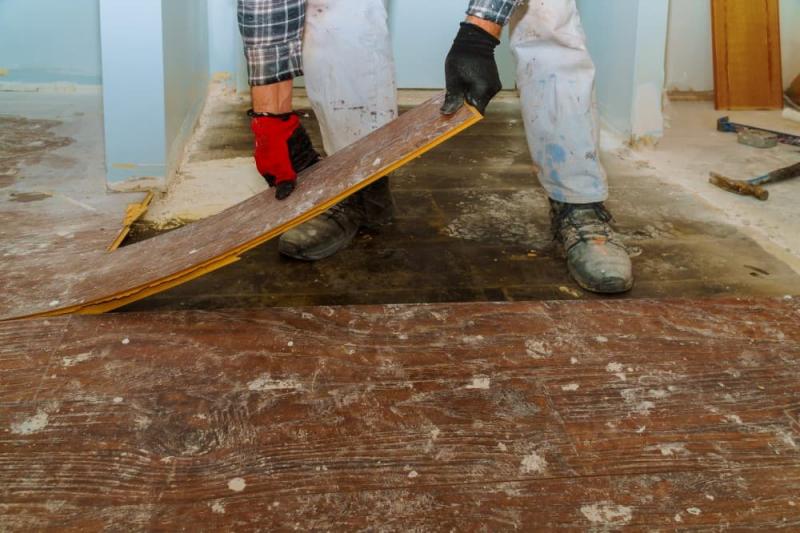 We Can Remove All Types of Flooring
Once you've decided on a new design for your room remodel, it's time to get started. Oftentimes, when you're doing a whole room remodel, the floors are the last thing to be updated. So, it's essential they look fantastic and bring the whole room together. Our professionals have the right tools and equipment to handle any size project or any time of flooring material. We handle each project with care to preserve the rest of your room while your existing floors are being removed. The types of flooring we remove include:
Hardwood Flooring – The process of removing hardwood floors requires the proper tools. In some situations, the hardwood is nailed and glued to the subflooring.
Tile Flooring – Grout is a cement-like substance that hardens to secure the tile to the floor. Removing tile is rigorous work that requires a knowledgeable team.
Carpets – Removing carpets can be difficult. It's often stapled to the subfloor and tucked underneath the baseboard. If you're not careful, you can ruin other elements of your home's décor. Rolling it up and discarding it is also problematic.
Vinyl Plank – Vinyl plank is often glued to the subflooring using a commercial adhesive. Removal will take a substantial amount of time without the proper products, leaving you with uneven subflooring.
DIY vs. Professional Floor Removal Services
Handy homeowners may consider DIY floor removal instead of choosing a local professional such as Jonathan's Flooring. However, there are numerous benefits to choosing an experienced company for your floor removal service. Before you begin demoing your home's floors on your own, consider hiring a professional. Discover why homeowners throughout the area choose us for floor removal:
Project Timeline – As a flooring removal and installation company, we can ensure your project timeline is met. Our team will work efficiently to remove your old floors and install new ones. If you try to remove the floors on your own, you may experience setbacks that can leave your subflooring exposed until a new installation date is made.
No Risk of Injury – When flooring is improperly removed, it can cause structural issues and lead to injury hazards such as exposed nails and tacks. Our team has the knowledge and experience to ensure your floors are safe.
Proper Tools – Having the right tools is critical for ensuring your floor removal project is completed on time. Whatever the flooring type, our technicians will utilize the right equipment.
Less Chance of Water Damage – There is always a chance of mold and mildew growth when dealing with floors. Our professional team will eliminate allergens from your floors.
Why Should You Choose Jonathan's Flooring for Floor Removal
Homeowners throughout Pensacola, FL choose Jonathan's Flooring for floor removal services because we're dedicated to ensuring a job well done. Our knowledgeable flooring professionals have the right tools and experience with any size floor removal job. We're always available to answer any questions you may have about your home's floors or our removal process. Learn more about why more homeowners choose us for floor removal:
Reliable – As a professional team, we're dedicated to providing you with the very best service. Our team arrives at the job site on time and is prepared to work. Once we're finished, we ensure that your home is free of debris.
Customer Satisfaction – Our top priority has always remained the same; provide our clients with an A+ experience.
Locally-Owned – As a locally-owned and operated company, we know it's our responsibility to provide high-quality services at an exceptional value.
Choose a Floor Removal Specialist
Homeowners throughout Pensacola, FL, and the surrounding communities choose Jonathan's Flooring for all their floor removal services. Our team of knowledgeable and friendly product experts has assisted hundreds of homeowners throughout the years. The key to installing new floors that look fantastic is ensuring your existing floors are correctly removed. We have the experience and proper tools to remove your existing floors before installing new flooring. Contact us today to get started with a service quote.